Disposable Vapes Perfect for Tobacco Lovers
Disposable vapes that taste like popular tobacco flavours.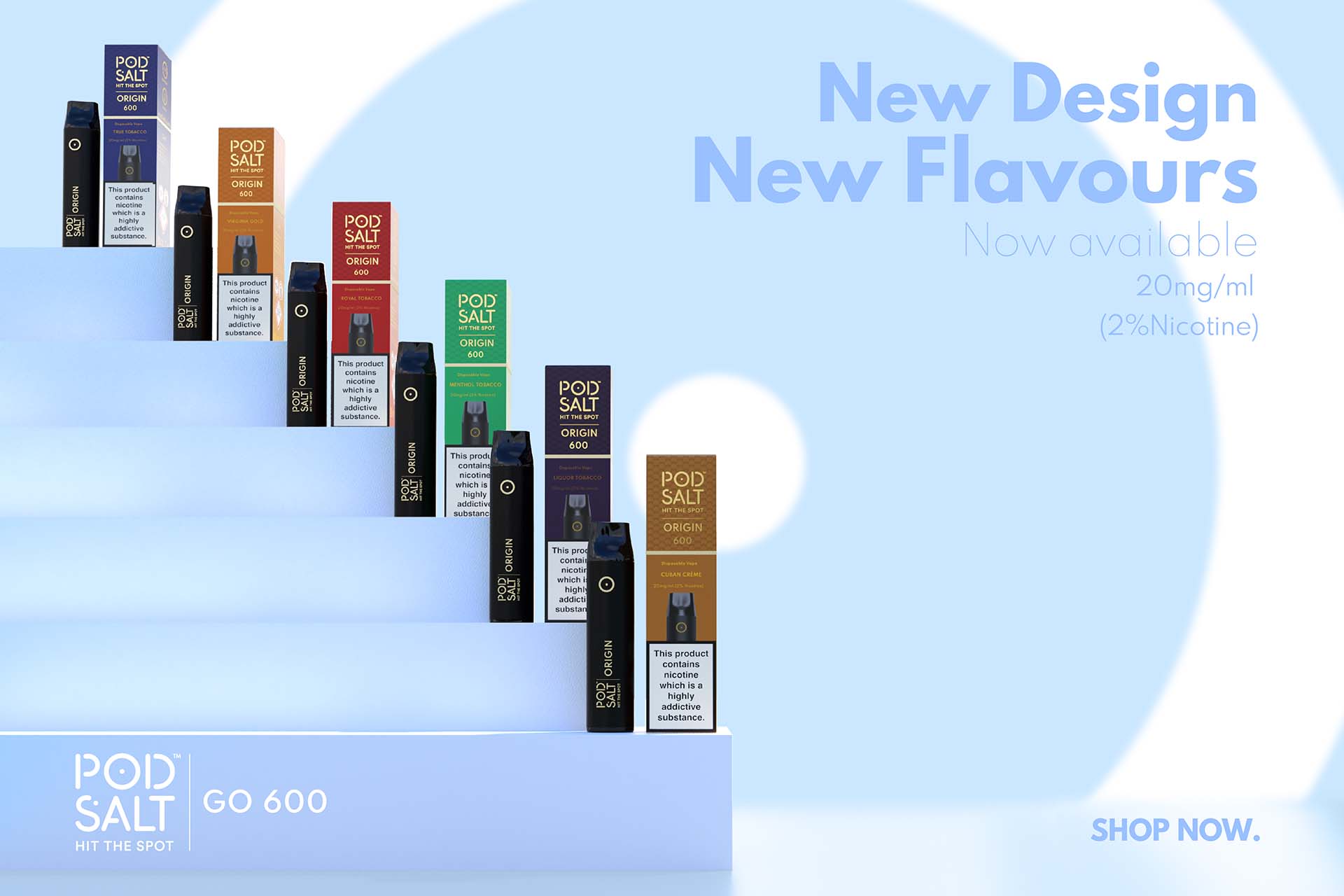 Get to grips with quality tobacco flavours in a whole new way with Origin GO 600! Pod Salt aims to cater for your entire vaping journey, and where better to start than with convenient, disposable devices? Get to grips with authentic, rich tobacco flavours with 600 puffs of 20mg Nic Salts in sleek and stylish disposables.

Origin is inspired by the origin story of vaping, finding its roots in those who looked to quit smoking. With authentic tobacco flavours and our premium Nicotine Salt, Origin is a unique vaping experience that's truly the bee's knees.

Take our award-winning nicotine salts with you wherever you go and enjoy the most popular tobacco flavours around. Looking for a disposable vape that tastes like your favourite cigarette or cigar? Look no further.
Meet the Origin flavours
Virginia Gold
Inspired by the famous mid-west rolling tobacco. This deep, well-roasted flavour enjoys being mild but boasts a sweet, vanilla hint to keep you coming back for more.

Cuban Crème
A unique twist on the Cuban tobacco classic. Enjoy notes of only the best hand-made cigars, boasting rich and sharp aromas, with a delicate dashing of sweet vanilla crème.

Royal Tobacco
For the refined palette, this mellow tobacco is well-rounded and light. Richly highlighted by light caramel that offers sweet notes with each puff.

True Tobacco
The most authentic tobacco flavour around, this is a must for tobacco connoisseurs. Full-bodied and robust, enjoy warm, natural earthy tones with hints of sweetness. Ideal for heavy smokers.

Menthol Tobacco
Reminiscent of the menthol cigarette, this tobacco tastes just like the hand-rolled flavours you love, with a refreshing menthol breeze to cool those warm, natural tastes. Perfect for those transitioning from smoking to vaping.

Liquor Tobacco
Rich and dark, this full-bodied flavour has the signature earthy tobacco taste, complimented by warming absinthe for a bitter-sweet liquorice twist.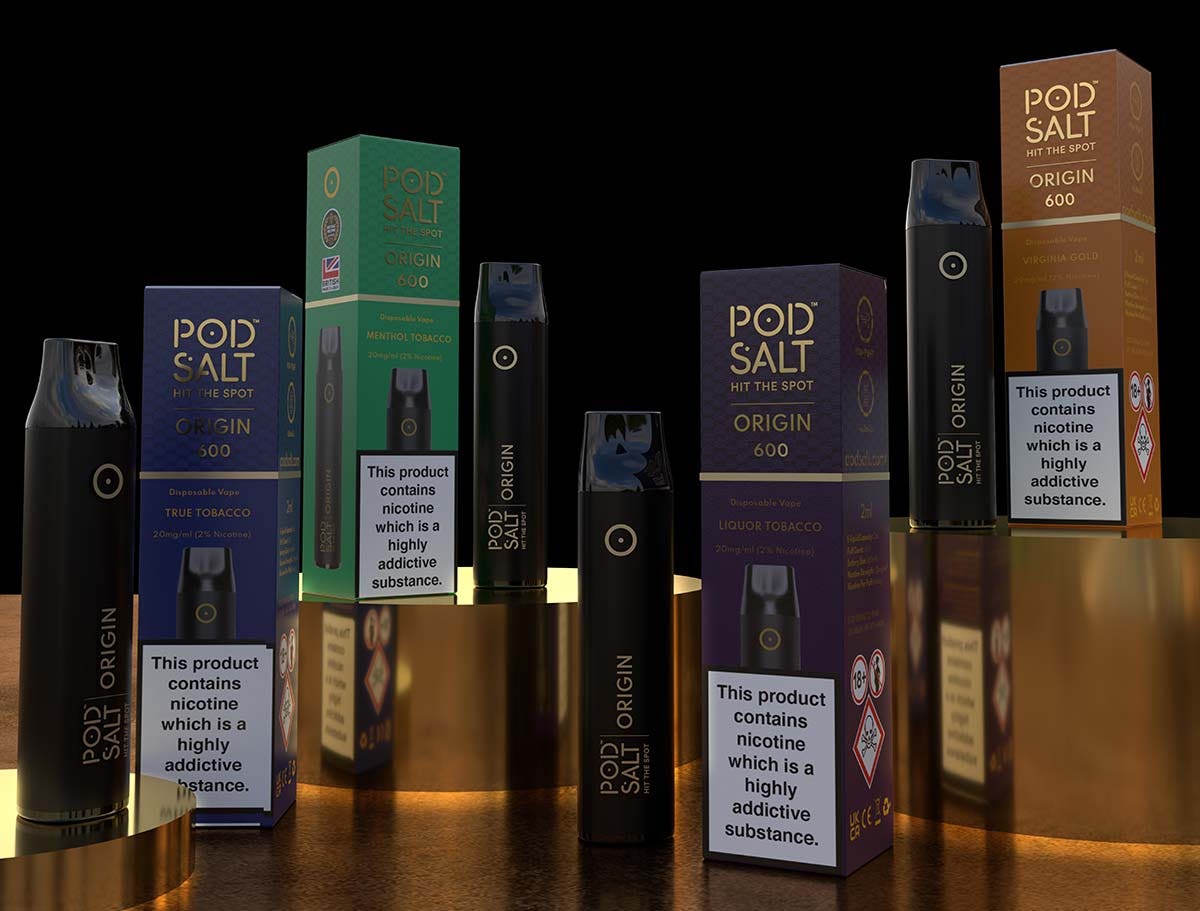 Why Origin GO 600 is the best for smokers looking to quit cigarettes
Vaping offers an alternative method to smoking that is much less harmful. Not only this, but there are many smokers who develop a preference for the flavour of tobacco, something that traditional NRTs (Nicotine Replacement Therapy) don't help with.

Origin was created with the goal of helping smokers with a taste for warm and robust tobacco flavours, quit smoking. Featuring a range of authentic tobacco flavours and combined with Pod Salt's Nicotine Salts that are guaranteed to Hit the Spot. Make Origin the beginning of your quitting journey.

Pod salt offers unrivalled smoothness and strength to create an utterly satisfying vape. Perfect for those looking to quit smoking and need high nicotine strengths to fight the cravings.

Although tobacco flavours may not be for everyone, Origin's range of tobacco flavours combine complex tastes to create a vaping experience like no other. By combining complimentary sweet and rich flavours, they help elevate the tobacco flavour E-Liquids even further.

Disposable vapes are ideal for new starters to vaping as they are convenient and easy to use straight from the box. Draw-activated, pre-filled and powered by a 460mAh battery for optimum performance, make your vape GO further, GO stronger and GO smoother with Origin GO 600. For the peak vaping experience most akin to cigarette smoking, choose Origin GO 600 disposables to satisfy your nicotine cravings.